Elmhurst
LINK TO VIDEORECORDING OF DAWN TURNER AUTHOR VISIT
A special thanks to Elmhurst University and the Elmhurst Public Library for cosponsoring the One Book, One Elmhurst initiative and for hosting Dawn Turner, author of Three Girls from Bronzeville: A Uniquely American Memoir of Race, Fate, and Sisterhood on October 26, 2023.

For a viderecording of Ms. Turner's author visit, please click
here
. 
THANKS FOR YOUR SUPPORT!
Thanks for all of your support . . . between our Annual Appeal in May 2023 and our fundraiser at Panera in September 2023, we have earned more than $1,306!
Your generosity helps us ensure we can keep democracy in action in our community!
2024 CANDIDATE'S GUIDE
Thinking of running for office? Check out the
2024 Candidate's Guide
, courtesy of the Illinois State Board of Elections.
A CLOSER LOOK AT LWV ELMHURST LEADERSHIP
LWV Elmhurst leaders have a meaningful impact both within our organization
and throughout our entire community.
Want to learn more about joining us? Reach out by clicking president.lwvelmhurst [at] gmail.com (here).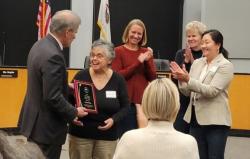 Pictured above: Mayor Scott Levin presents LWV Elmhurst Second Vice President Grace Clear with the Outstanding Senior Citizen Service Award in November 2023; LWV Elmhurst co-presidents Jan Dorner and Dorothy McGuire received the award in 2018 and 2022, respectively.
STAYING INFORMED/ENGAGED
For a comprehensive listing of the many events we are hosting, sponsoring, or supporting,
Click here for the observer report (OR) for the Elmhurst City Council meeting on November 20, 2023.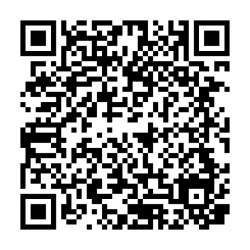 *Email us to request reports predating 2019.
WE WANT TO HEAR FROM YOU!
Click here to contact members of the current LWV Elmhurst Board of Officers and Directors.